SAFETY AT HZL
Cautious at Work
The key material issue associated
Health & Safety
Priority of the issue
HIGH
SDGs
associated


Zero Harm
An unrelenting objective
At HZL, we are committed to being a business without fatalities, serious injuries or occupational illness. We firmly believe that every incident is preventable. 'zero harm to people' is our paramount health and safety goal.
We are committed to providing safe working conditions and have effective management systems in place to ensure the wellbeing of all our employees and others who may be affected by our operations.

Our ambition
Establishing a zero harm culture at work and enhancing safety by eliminating fatalities, incidents and illnesses

Our approach
Establishing a Zero Harm culture at work and enhancing safety by eliminating fatalities, incidents and illnesses
Recognising Occupational Safety as a core value and driving responsibility towards Safety, Health & Environment (SHE) to protect the people we work with and society at large
Taking initiatives towards ensuring utmost safety of its employees and the environment they work in. The Safety Excellence Journey is a significant initiative on this front
Governing safety through the Apex Body which is the Corporate Safety Council, chaired by the CEO, and involves various leaders from all verticals. The business HSE Head is the Member Secretary of this council
Building the three safety pillars: safety culture transformation, capacity building and process safety management

Strategic priorities
Achieve zero fatality
Achieve zero occupational illness cases
Improve occupational health and hygiene
Effective High Potential Risk Management
Critical review and audit of safety standard implementation
Performance in FY 2019
Constituted Safety Innovation Cell
Introduced Fatality & Serious injury Prevention Programme (FSIPP) Subcommittee as a workstream
11 mandatory online safety tests conducted
Released videos on machine guarding and excavation standards
Strengthening of Emergency preparedness of organisation - Fire team successfully arrested the chlorine gas leak at Chhoti Sadri of Pratapgarh District and saved the life of ~ 2,000 people of that area
Safety governance
HZL aspires to achieve excellence in safety practices and performance.
Therefore it has put a system in place to:

Enable people's involvement

Assign accountability on safety to the line function

Establish lifesaving rules and progressive consequence management

Ensure ownership on safety from line function

Build competency among employees

Integrate safety into the existing management system

Form an integrated approach to build in safety within the contract management process
Safety at HZL is driven by the Corporate Safety Council, which is chaired by the CEO, and has the Chief HSE Officer playing a key role in the council. The apex body has six corporate subcommittees and five zone apex committees, with primary function to set system and procedures in place and to steer safety in business with ultimately helping the organisation to achieve zero harm.
Safety Councils have also been regularised at the Independent Business Unit (IBU) level to bring more accountability with regard to safety. Monthly safety meetings are conducted at all the IBUs involving key leaders and their active participation, which helps business to improve processes of safety through decision-making.
We also have a formal joint 'management-worker' health and safety committee, which is the governing body for monitoring the implementation of organisations occupational health and safety programmes and drives. It has equal representation of Management and workers Most employees do participate in these safety committees. Committee meetings are held regularly to gauge the effectiveness of these programmes as an assurance process to safety implementation.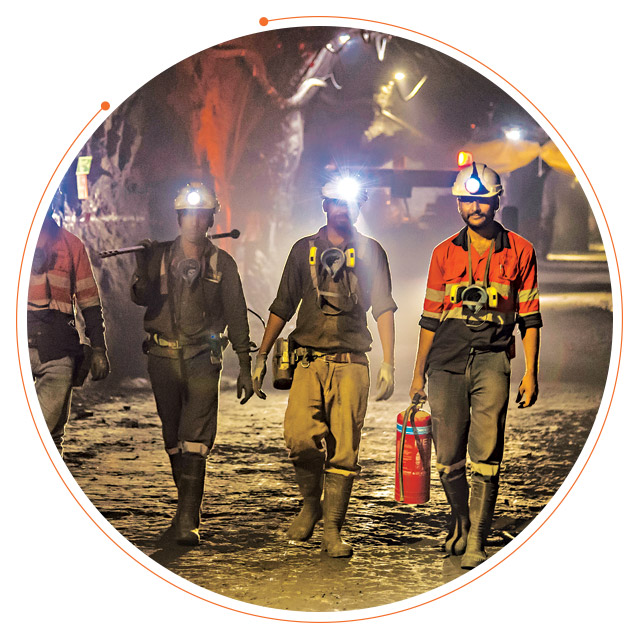 Governance Structure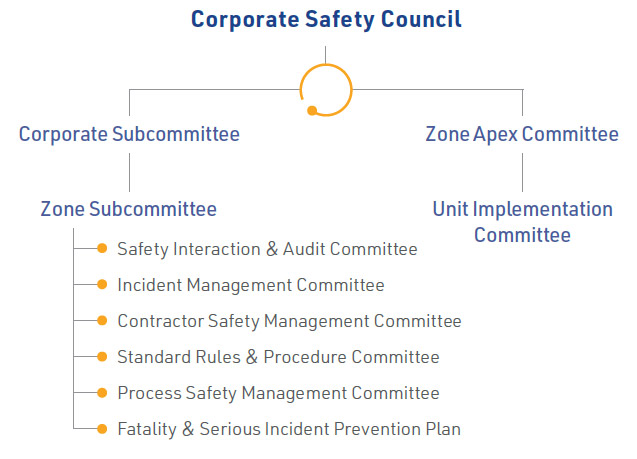 Key safety subcommittees
Committee
Roles and responsibilities

Safety Interaction and Audit Subcommittee

Deploy, monitor and review unit Safety Observation and Audit process at HZL for achieving world-class safety performance
Ensure that all unit employees have adequate standard and procedures to define and implement a process to improve behavioural safety using safety interaction system
Implement, deploy and continually review safety interaction processes at zones for achieving world-class safety performance

Incident Management Subcommittee

Effective communication to make all employees aware about the incident management & investigation process that supports the objective of reporting, investigating and communicating all incidents. The principle that underlies this is 'the only reason an investigation is undertaken is to prevent a recurrence' and focusses only on finding 'fact' and not 'fault'
Develop, deploy and continually improve incident reporting and investigation process uniformly across all businesses of HZL

Contractor Safety Management Subcommittee

Deploy, monitor and review a rigorous Contractor Safety Management System to allow HZL to partner with contractors who share HZL's values for safety and operational excellence
Implement and improve Contractor Safety Management (CSM) system in our operational units
Standardise contractor management cycle for contractor awareness, involvement and improvement

Process Safety Management Subcommittee

Implement and maintain risk management systems & processes in order to eliminate process safety incident and injuries

Standards, Rules and Procedures Subcommittee

Ensure that adequate rules and procedures are available for all employees and contractors at HZL to work safely and effectively
Implement a process to identify, develop, train and implement the high risk standard and procedure
Introduction of Fatality and Serious incident Prevention Programme (FSIPP) Subcommittee
With an aim to enhance focus on high-risk activities and monitoring the effectiveness of control measures, we introduced the 6th subcommittee – FSIPP subcommittee
The key objectives of the FSIPP subcommittee is to:
Ensure that all the identified high-risk activities are analysed for risks and control measures defined, implemented and monitored
Drive organisation fatality and serious injury prevention programme in a structured way
Periodic monitoring, audit and horizontal deployment of critical controls across all locations
Safety Committees – Composition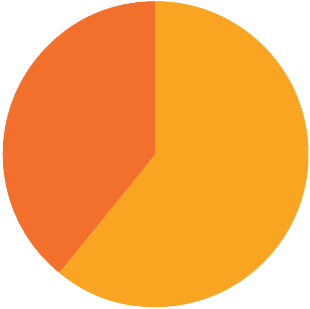 56

%

Participation from Management
44

%

Participation from contract employees
Safety performance
HZL believes in fostering a culture of transparent reporting and encourages employees to report every incident in order to eliminate all potential hazards and risks in our operations and prevent reoccurrence. During the year, HZL reported an increase in the number of incidents although there is reduction by 26% over the previous five years.
This year, there was an increase in lost time injury frequency rate from 0.27 to 0.63 partly on account of higher local contract workforce and increase in underground mining operations. This puts a high onus on HZL to enhance skill development and safety training of the local workforce and several initiatives are being taken in this area.
There were seven fatalities during the year – four in mining and three in smelting operations. The cause of these incidents have been thoroughly investigated and effective controls are being put in place to prevent their recurrence.
Safety trainings of 0.81 Million man-hours were conducted to strengthen adherence to safety standards and procedures.
Lost Time Injury Frequency Rate (LTFIR)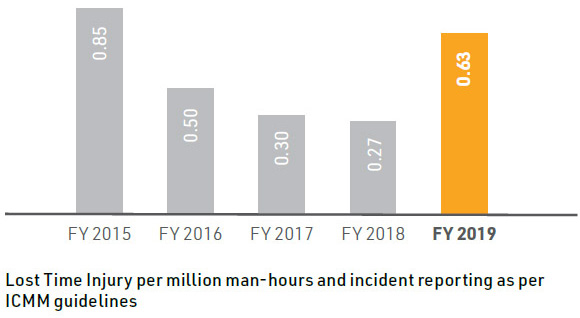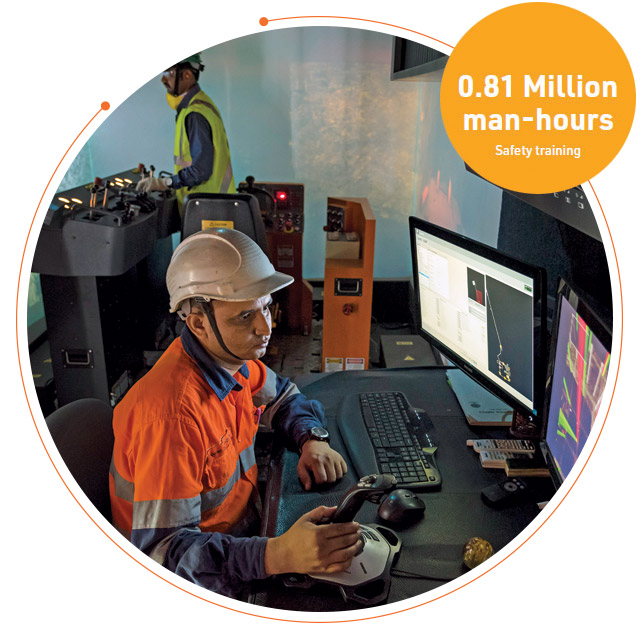 Strategic approach
For us the life of our people and their families are of paramount importance. As an organisation, we are committed to achieve safety excellence in our business and have embedded safety as an integral part of our Business. To achieve this we have adopted a strategic approach based on the following three pillars:
Three pillars

Safety culture transformation
Safety Whistle Blower
Safety Town Hall
Safety Stand Down
Action Employees Can Take (AECT)
Contractor Safety Management

Safety capacity building
Safety Training
Safety Training Kiosk
Safety Training Park
Online Safety Awareness Test
Emergency Response & Rescue Drill
Engaging Experts for Skill Development

Safety process management
Safety Standards
Fatalities & Serious Injury Prevention Plan (FSIPP)
Safety in Operations
Hazard Analysis
Safety Improvement Project
Innovation & Technology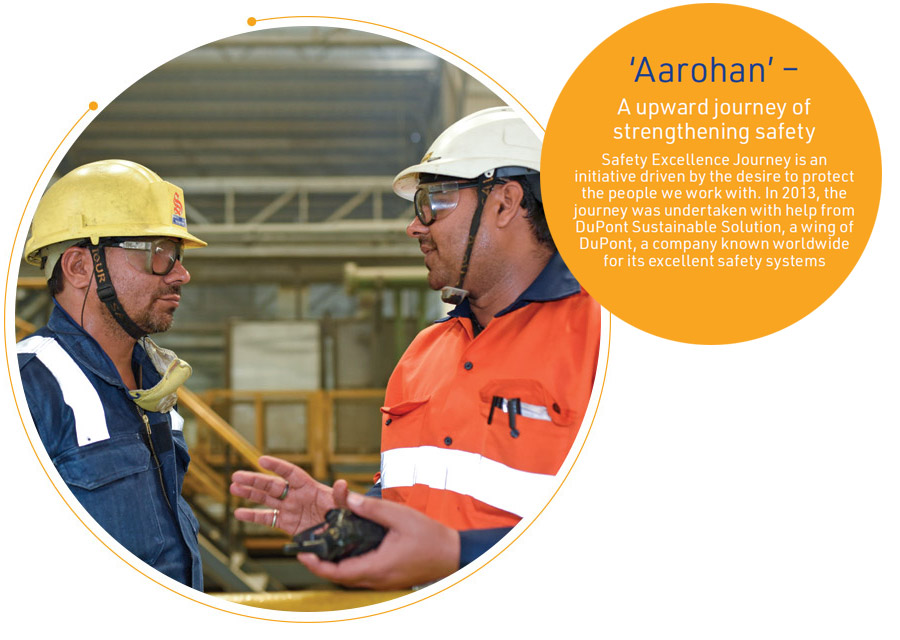 A culture of safety
HZL's Health, Safety and Environment policy defines our commitment to protect employees and others affected by operations while a set of standards, guidelines, operating procedures and systems detail the accountability, mandatory controls and requirements for managing the business in a safer way.
Key elements of the safety programme
The HSE policy, related guidelines and standards are implemented to maintain safety and wellbeing of our people at workplace, respond responsibly to incidents and undertake appropriate provision to mitigate risks.
All units are OHSAS 18001certified and migrating towards ISO 45001 with Hazard Identification and Risk Analysis (HIRA) in place for all activities. For every significant risk, appropriate control measures are implemented as per the hierarchy of elimination, substitution, engineering, administration and Personal Protective Equipment (PPE).
Safety Pledge
Never compromise my own safety or the safety of my co-workers to get the job done
Never take shortcuts or bypass the safety features to perform the task quicker or easier
Perform my job with understanding that working safely is a condition of my employment
Never walk past the work being done in unsafe manner; stop the job if it is not safe
Actively look for hazards, promptly report them, and take appropriate action to warn others
Always follow the Life Saving Rules
Always do my job with 100% compliance of Safety Rules/Standards/SOPs
Be a good safety role model for my friends and family. Even when off the job, I will voluntarily participate in the safety promotional activities and will demonstrate safe behaviour at all times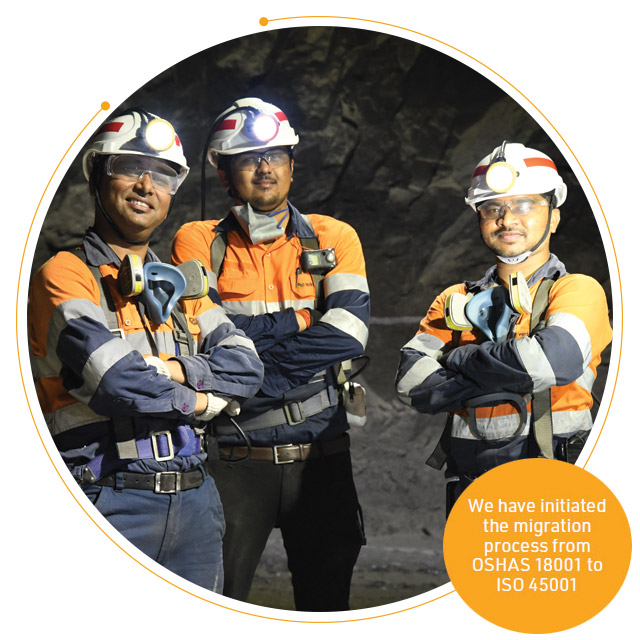 Hazard analysis and risk management
We, at HZL, follow the '5*5' Risk Matrix for risk assessment, wherein risks are identified, categorised as per impact and probability and mitigation plan are prepared. There is a formal process for hazard identification, risk assessment and control to effectively manage workplace and safety hazards across the units. Training on identification and assessment of risk is imparted to employees. Apart from this, we have techniques called Hazard and Operability (HAZOP) and Process Hazard Analysis (PHA) to identify process risks and prepare appropriate mitigation plans through audits.
We have developed Standard Operating Procedure (SOPs) for the 26 high risks we have identified and are implementing phase-wise. Also, 14 Standards are being developed for fatality prevention elements.
0

.

63

Lost time injury frequency rate
0.
81
Million manhours of safety training accomplished
100

%

Periodic medical examinations of all employees as applicable

Case study
Upgrading safety standards
Our operations require the mass transportation of coal to coal bunkers and we devote attention to making sure that the process is carried out without interruptions and distress. We recognise the need to elevate uniform safety procedures pertaining to the handling and operating of coal bunker trolley. Ideally, the trolley should run in auto mode so as to employ least number of operators in the process, thereby engaging their productivity into more fruitful occupations while keeping them safe from hazards.
What were the challenges
Our principal problem arose out of the fact that the bunker trolleys were dependent on human intervention, giving rise to potential hazards in and around the plant. Further, the operators working with these machines were not safe, since they were exposed to the machine interface.
How we intervened
We have varying layers of hierarchy that assess the efficacy of our control measures. These layers are also useful in gauging the modes that lead to failure in operation, causing hazards. We identified the possible hazards present within the course of bunker trolley automation, by means of a systematic process.
Devising and implementing the use of an auto operation facility was viewed as the best way forward. In doing so, we installed four new proximity switches. We crafted a forward and reverse operation logic, in addition to incorporating Programmable Logic Controller (PLC) based protection and interlocks as well as a camera for remote monitoring. We retrained relevant personnel to ensure sustenance of the measures.
What we achieved
One of the major risks associated with self-handling is the possibility of operators being trapped by moving machinery. However, following the implementation of control measures, likelihood of occurrence decreased to 20%. Risk likelihood came down from 25 to 5.
The safety innovation cell
Over the last decade, with HZL expanding its capacity from 0.5 Million to more than 1.0 Mt in FY 2019, safety at the organisation has been impacted due to involvement of a larger workforce, at our mines, smelters and projects.
To boost safety innovation, HZL decided to explore best possible technologies as well as innovations that can boost safety and mitigate risks. A team of ten members was constituted from smelters and mines to identify the top 10 risks faced by HZL. As part of this exercise, the team collected last 10 years Fatality, High Potential Incident (HIPO), Lost Time Injury (LTI), Medical Treatment Injury (MTI) data and analysed their root causes possibility of any engineering control in that particular risk.
Focus on top 5 critical hazards

Fall of ground

Man machine interaction

Mine fire

Hot metal work

Material handling
Vision of the Safety Innovation Cell
Be a benchmark in safe work practices by eliminating risk through technology and innovations
Mission
Identifying innovative engineering solutions for high-risk activities
Eliminate/minimise manual activities in material handling
Improve awareness on safety culture through Innovative ways
Digitalisation of safety system
Innovation cell's approach
Understand high hazard activities in detail
Review effectiveness of earlier action plan against each incident
If risk is not mitigated, look for innovative solutions to eliminate/mitigate risk through:

Engineering control
Mechanisation/digitalisation/automation
Benchmark solutions/visits to other mines/smelters
Engaging engineering consultants

Finalise the solution for implementation at one place and measure its effectiveness
Horizontal deployment across all mines/smelters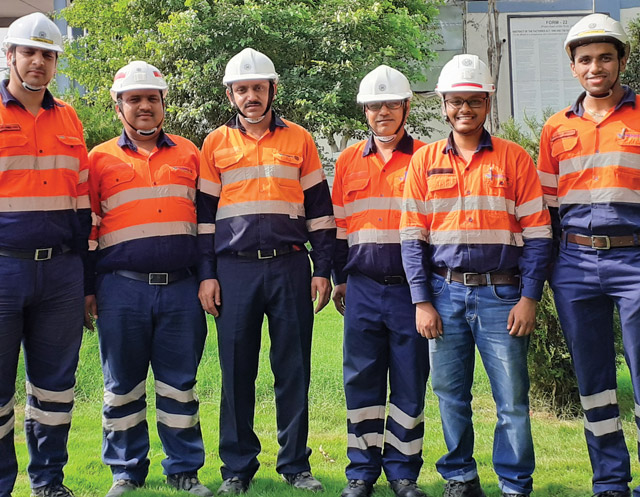 Major innovative technological developments from safety innovation cell
Man-machine interaction
Collision avoidance system – Proximity Sensor/Radio Frequency Identification (RFID)
Innovative parking design with no reversing/drive-in parking
T Stick/Flasher light for underground
Smart cone positive barricade system
Rock-falls prevention technologies
Rock and roof falls is one of the most common and the leading cause of underground mining accidents. The Safety Innovation Cell has explored D-Fog, an early warning system for fall of ground and introduced mobile scanning device at Rampura Agucha Mine to know the convergence of the area with ease of working. To minimise manual interaction in rock bolting & wire meshing, we explored a new technology called Mesha & jumbo guard in boomers/jumbos to interlock hydraulic action during manual intervention.
Computerised permit-to-work system
SI cell with the help of ENSTRAPP, has developed a permit-to-work authentication system called IntelliPERMIT that integrates all aspects of permits-to-work, access control and risk assessment, tracks the authorisation levels of each employee at work, and ties permits into access control with biometric fingerprint identification. IntelliPERMIT has been installed and in use at Chanderiya Lead Zinc Smelter (CLZS) and is being expanded for horizontal deployment across all sites.
Fatigue monitoring
Seeing Machine, an Australian company, has developed fatigue monitoring systems called Driver Safety System (DSS) using patented eye and head tracking technology. The DSS comprises a dash-mounted camera constantly detecting the fatigue and distraction in the driver's eyes. This system was already installed at Rampura Agucha Mines open pit trucks earlier. A new technology has been developed by Daversman called seat vibration integrated with dash board camera. The cell is exploring integration of this technology with our systems at underground mines.
Mine rescue: Custom build refuge chambers
To facilitate easy rescue for more than 200 to 300 persons inside underground mine, the Safety Innovation Cell has asked Strata PDS (USA) to develop custom-built refuge chambers for Sindesar Khurd Mines and Rampura Agucha Mine in the first phase. It will be horizontally deployed in the next phase in other mining units.
Crane smart safety
Material handling through EOT and mobile cranes in mines and smelter is always challenging and is a high potential hazard. Safety innovation cell has explored eight engineering controls for EOT cranes to be implemented, especially at smelters:
Balanced lifting
Access control
Line of fire safety
Accidental remote operation
Auto hook latching
Lift control & smooth hoist
Specific weight lifting control and
Crane hook latch live monitoring

Case study
Man-Machine Interaction at Rampura Agucha Mine
The number of vehicles and pedestrians are very high at mining premises. Seven fatalities have been reported in the last 10 years at HZL and the recent fatality reported at Mochia revealed that blind spot areas of mine truck operators lead to fatality.
The HSE department conducted an audit and a routine inspection at roads and parking areas which revealed a major hazard 'struck by vehicle' and 'run-over' due to non-segregation of pedestrians and vehicles and blind zones, creating 'line of fire', especially while vehicle reversing.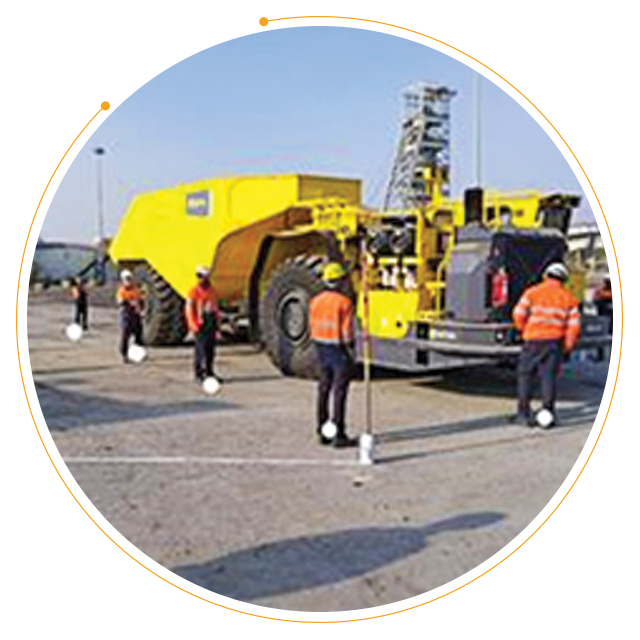 Few initiatives taken up by team to avoid MMI:
Pedestrian walkway extension
LED light stick on LMV's
Speed breaker to control speed of vehicles
'One -way' traffic
Improved road traffic signages and road marking
Prohibition on usage of mobile in unauthorised areas
Defensive driving technique and blind spot training
Line of fire exhibition with live models
Better handling of blind zones
Following recommendations from this programme, we implemented solutions like installation of additional cameras. As a result, rear and side views improved
Defensive driving technique training imparted to operators and HZL, drivers and contract workers changed their behaviour
Through this drive we covered 409 participants
Strengthening safety performance

Case study
Towards safety excellence
We are pursuing a vision to become the best and the most sustainable corporate. To that end, we conducted a Safety Perception Survey and Safety Management Evaluation of HZL's operations during February 2013. Soon after, we announced the commencement of a long-term safety excellence journey for 48 months, in collaboration with DuPont. We christened the journey 'Aarohan' with the meaning - 'stepping up towards safety excellence' in mind.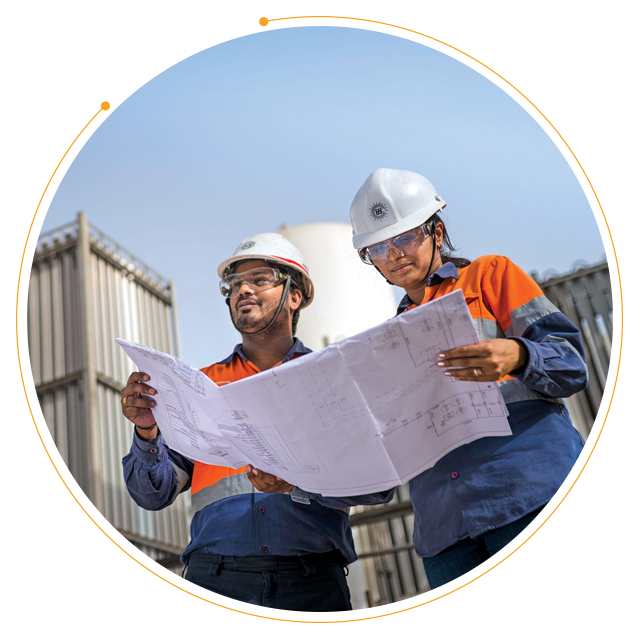 Intervention
With our high benchmark for effecting positive change in mind, it was necessary for us to transform the culture of our organisation from reactive to independent. At the same time, achieving excellence in safety standards was paramount. The journey involved a structured programme, which was catalysed by four key levers:
Engaging the senior leadership
Inculcating a strong safety consciousness across the organisation
Building skills and competencies for consistent implementation along prioritised work streams (such as safety interactions, incident management, contractor safety management, process safety management and others)
Enhancing existing safety management systems and enriching its associated ideals
Impact
Aarohan allowed us to see positive results achieved mainly on account of our dedication, commitment and hard work towards becoming the safest organisation and offering a supportive workplace. This programme enabled employees to develop a personal sense of ownership and accountability, through continuous dialogue related to safety issues.
One of our primary focus areas was to energise the senior management into participating in the programme and thus leveraging a higher degree of involvement to direct the team towards fulfilling the objective of 'care' and 'zero harm'. The journey of Aarohan has succeeded in demonstrating 'Visible Felt Leadership' with the Line Management proactively taking accountability and responsibility for safety and fostering a belief that all incidents are preventable.
Since the implementation of this programme, we have realised better reporting of leading indicators; an improvement in the quality of incident investigation; increased active employee participation in safety-related activities; and an improvement in the standardisation of systems as well as the overall development of skills.
Leadership-driven safety townhall, IBU-level safety council, zone HSE coach programme, mining and smelting safety workshops, second party safety audit and leadership tour of shop floor to showcase felt leadership
In light of the tailings facility failures in recent years around the globe, we have proactively conducted stability tests across our three tailing dams with the help of global experts in addition to comprehensive internal audits by cross-functional teams and recommendations from these are being addressed on a priority basis
Introduced Observance Day to sensitise all employees on past incidents, implementation of its learnings and to avoid reoccurrence of same incident in future
11 mandatory online safety tests were conducted to bring awareness on various safety standards
Videos on machine guarding and excavation standards were released under training application. Safety videos will be made for all standards in the coming years.
We have introduced the safety stand down platform to extend the learnings of an incident at any site to other units.
We have rolled out monthly themes for our high-risk activities and conducted various programmes (training and awareness sessions, competitions, etc.) around these themes to spread awareness across our operations.
Automatic operation of coal bunker trolley was done by installing proximity switches, forward and reverse operation logic for trollies, protection of interlock by PLC, installation of camera for remote monitoring. As a result, likelihood of accident occurrence decreased by 20%

Case study
Automating rack-in, rack-out process
Electrically powered equipment can pose a significant hazard to workers, causing burns, shocks and electrocution. Different sources and records revealed that most of the incidents that happened within electrical systems were at the time of inserting or removing (rack in or rack out) circuit breakers from the circuit.
These incidents occurred while connecting or disconnecting the moving part from the charged part, known as busbars. Generally, the rack in and out practice is performed by engineers, after the circuit breaker is opened. This is done by rotating a handle, which is fixed on the breaker, anti-clockwise. Physical racking in and racking out circuit breakers poses a potential risk of lethal arc flash exposure. The chances of flashing are more pronounced at the time of disconnection, resulting in electrocution of the person performing the task.
We discussed the reduction of human interventions with OEMs. We identified motorised rack in and rack out breakers, wherein operations are conducted remotely from an electrical control room. We implemented this feature in a medium-voltage switchboard and were able to lower the risk of 'line of fire' accidents. Additionally, arch flash protection relays protect equipment from getting damaged in case of internal faults.

Case study
Enhancing fire safety measures
In order to protect turbines from fire hazards similar to the one that occurred in the Chanderiya Lead Zinc Smelter (CLZS) Captive Power Plant (CPP) and the Zawar CPP, we initiated the process of turbine enclosure modification.
The primary reason for the fire was detected to be the oil leakage from the control valve servo meter seals, which lead to the spillage of oil on to the hot turbine surface. Suitable actions has been taken for oil seal design however to avoid any possibility of fire hazard , enclosure has been designed suitably keeping all hydraulic circuit outside the enclosure.
Intervention
We designed the newly modified turbine enclosure in such a way that all hydraulic governing circuit equipment including government console, accumulators with piping, servo assembly and so on are configured outside of the enclosure. This was thought of in order to eliminate the problem of seepage of oil, through seals and joints, on to hot surfaces of the turbine equipment when leakages occur.
Impact
The maximum loss incurred in production at the CLZS CPP, from the leakage and subsequent fire, was I 806.4 Lakh. We estimate that the reconfigured turbine enclosure will generate just as much monetary savings for us, since it prevents the possibility of a fire breaking out.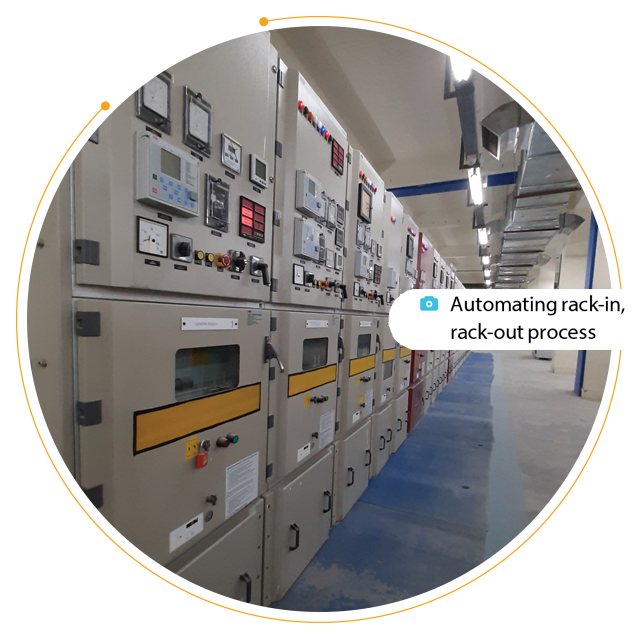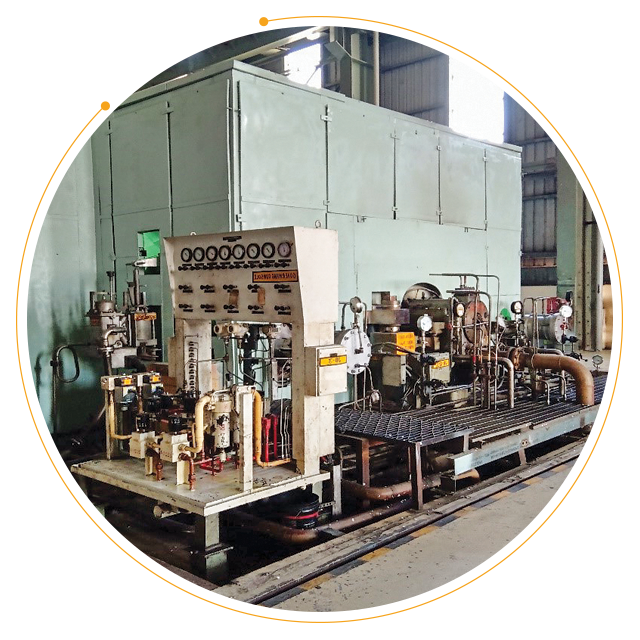 Case study
Quick action averting possible catastrophe
At Chanderiya, our safety team detected chlorine gas leakage in Chhoti Sadri of Pratapgarh district, which threatened the wellbeing of people in and around the location. We had to urgently address the issue in order to ensure that things did not get out of hand and result in serious mishaps. Besides exposing the neighbouring communities to the dangers of a gas leak, we had to tackle the general lack of awareness among our workforce regarding the probability of such an incident.
How we intervened
Our fire team responded swiftly to the problem and arrested the chlorine gas leak. The leakage occurred in the middle of the night and our rescue team woke the people residing within 200 metres of the plant and promptly evacuated them from the area.
What we achieved
Our swift intervention ensured the successful stoppage of the chlorine gas leak at Chhoti Sadri within ten minutes of reaching the spot. We were able to save the lives of ~2,000 people in the area, bringing them into the open and away from the affected area.
Training and awareness
Health and safety risks are communicated through regular training and awareness sessions provided to the employees and contract workers to improve their behaviour and attitude towards safe working practices. All newly hired employees and contract employees undergo necessary health and safety trainings before assigning of tasks.
Refresher training was also conducted throughout the year. Communication cells have been established at the units to communicate about safety to shop floor employees. Safety alerts are also released which are displayed on notice boards to make employees aware of the incidents that take place in any units and learnings are shared.
Driving safety through training
Safety trainings of 0.81 Million man-hours were conducted to strengthen adherence to safety standards and procedures. In particular, onboarding and skill enhancement of contractor workforce has become a critical business imperative.

Case study
Enhancing competency of mining mates
As we transition to high level of mechanisation at Zawar mines, it is imperative for us to enhance competency of frontline supervisors to deliver growth in a safe manner. Therefore, we have implemented a comprehensive Mining Mate Training programme – a custom built, contextualised 3-stage programme, which includes assessment, training and audit of mining mates at Zawar Mines in partnership with a leading mining training specialist from Australia. The course covers a range of key elements related to statutory requirements and safety in mining operations.
A skill gap assessment of 300 mining mates was conducted to understand the current knowledge of skills, roles & responsibilities and a custom-built training programme was developed with strong emphasis on their roles and responsibility.
Stage 1:Data from the assessment was analysed for insights on each mining mate, ranking them based on their performance during assessment.
Stage 2: A 15-day training programme was conducted for 21 selected mining mates to develop them as master mining mates.
Stage 3: These master trainers are imparting training to all mining mates at Zawar mines.
The training modules are designed with a blend of classroom and practical activities on the surface and underground to improve operational and risk management skills and empower mining mates to make informed decisions regarding safety and production parameters.
Contractor safety management
HZL's IT-enabled six-step contractor safety management programme emphasises on safe execution of the contractual work by business partners. We aim to bring all the IT-enabled platforms – SAP, Contractor Workforce Management System (CWMS), field observation and critical incident history of contractors under a common platform.
It involves providing them with safety training, daily tool box talks, a work permit system, and an independent assessment of their tools and tackles, along with regular audits.
A dedicated Contractor Safety Management Subcommittee is responsible for continually improving Contractor Safety Management (CSM) systems at all units and standardising contractor management cycle for contractor awareness and involvement.
Contractor Field Safety Audits (CFSA) are conducted by trained executives for Improvement Projects and Shutdown Activities by observing them and giving feedback for corrective action.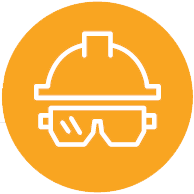 Committee
Roles and responsibilities

Contractor selection

Pre-qualification

Contractor preparation

Model contract
Safety conditions of contract
Pre-award meeting
Understanding of SHE requirements certificate

Contract award

Training & orientation

E-modules training
Safety induction
Job specification training

Managing the work

CFSA
Score cards
Other audits

Evaluation

Injuries/Medical Treatment Injury (MTI)/Lost Time Injury (LTI)
Score card improvement
Reporting
Key steps ensuring contractor safety
Selection process
A minimum level of safety awareness and implementation is built-in as a pre-qualification criteria. This ensures that the contractor comes onboard aware of the safety standards expected and we are able to pick the best fit contractor, thus ensuring safety for all. The contract preparation and award process involves pre-award meetings, elaboration of safety conditions of contract, understanding of SHE and all certification requirements
Hand-holding and capability building
Safety induction and job specific training is a mandatory part of the induction process and is continuously upgraded. Recently introduced features include historical training record based on bio-metric identification, enabling HZL to track the training hours invested on a particular contractor employee throughout their engagement with us. We also maintain CFSA, score cards and safety passports for all our contractual workers.
Auditing and performance monitoring
In addition to the monthly meetings, FY 2019 onwards, the CSM has introduced quarterly audits as well. We also closely monitor injuries/Medical Treatment Injury (MTI)/Lost Time Injury (LTI) and score card improvement. This enables us to be aware of any safety gaps, take immediate precautionary steps to resolve the issue, enhance safety measures and provide specific training, if needed.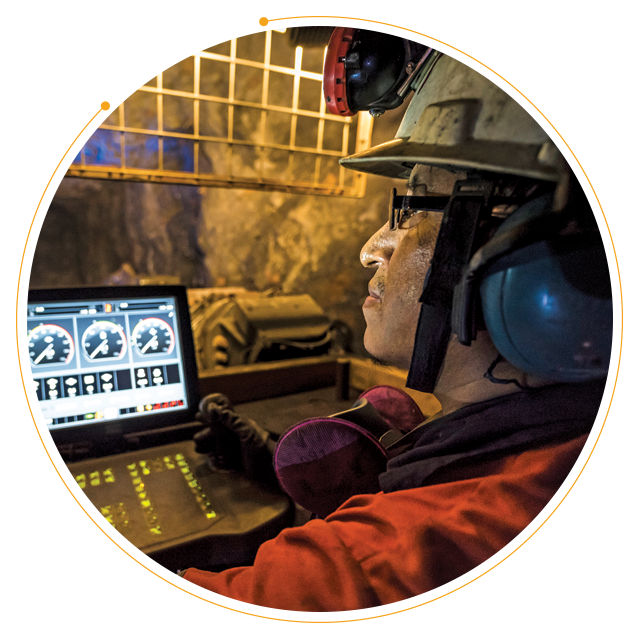 Occupational health management
Occupational health and wellbeing is as much important as safety. We maintain the highest standards of work environment to minimise the exposure of our workers to health risks.

Case Study
Facilitating better health management
We believe that functionality has much to do with proper maintenance of our fronts and in this regard, it was necessary to upgrade our hospital infrastructure at the Rampura Agucha Mine. It was also essential to address the issue of hospital and medical records being maintained on paper, which left room for making errors and misplacing documents. Thus, we recognised the need for a complete renovation, internal and external, of the hospital premises.
What were the challenges
At the outset, we identified multiple problems that afflicted the daily operations of the hospital. From improper functioning of the Panacea software, inadequate equipment and diagnostic services to insufficient inventory of quality medicines and supplements, unavailability of specialists and consultants and regulatory incompliance – we looked into a wide range of concerns. The state of outpatient care left much to be desired. Further, ambulance services were not aligned to the HZL vehicle policy and standards.
How we intervened
Our involvement encompassed initiatives at multiple levels to renovate the premises, reconfigure advanced procedures and equipment, and upgrade existing hospital amenities. We put in place systems that could allow the transactions to become paperless so that proper records could be maintained. Suitable apparatus and personnel strength to handle the high volume of outside referrals to our private hospital was arranged for. Furthermore, vehicles were refurbished, they were better equipped to deal with emergencies. We implemented complete legal and statutory compliance with regard to biomedical Waste, radiation safety and pharmacy.
What we achieved
Our efforts were able to deliver satisfaction among employees and dependents of the colony and contractors. We also accomplished a reduction in cost of purchase of medicines and ensured greater reliability in terms of their quality. Proper administrative operations also allowed the saving of expired medicines and surgical instruments. Digitisation of operations allowed staff members to be relieved of store management. Specialist services have been made available and children are now under better care. Early rehabilitation by physiotherapy was also achieved. The rate of new patient admissions has been lowered, owing to improved diagnostic facilities and reduced incidence of ailments. Overall absenteeism among employees has also gone down.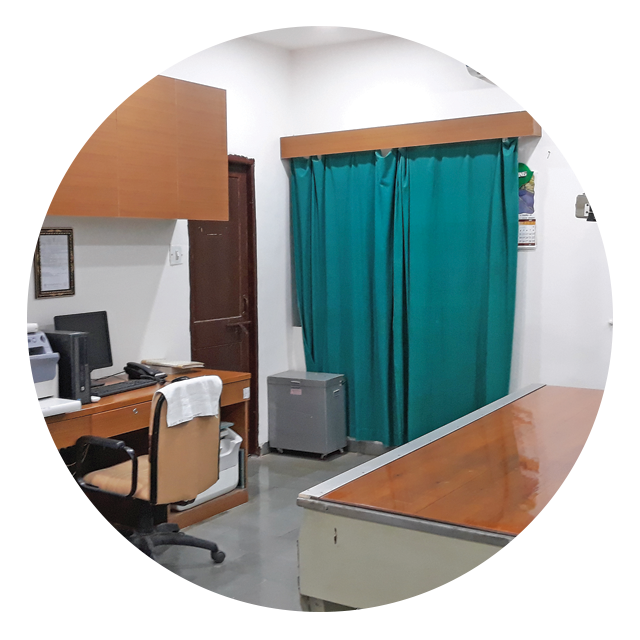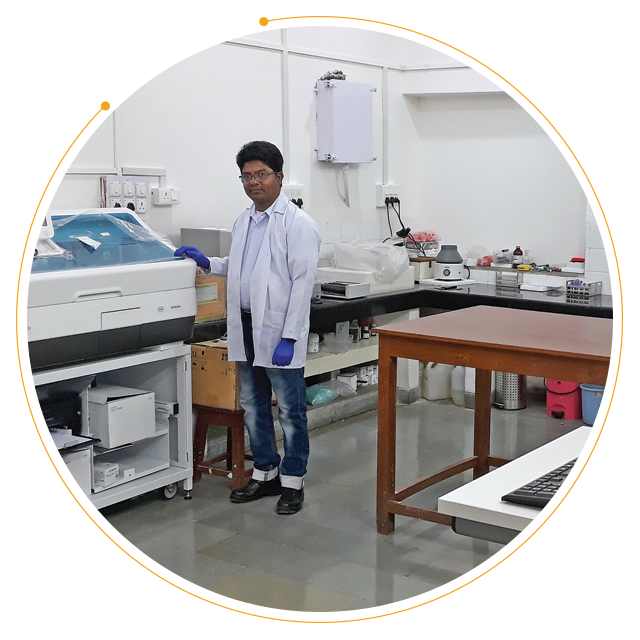 Establishing health and wellbeing at work place
HZL believes that all occupational diseases can be prevented. We aim to eliminate occupational illness by providing a workplace free from occupational health and hygiene risk and by proactively contributing towards healthier lifestyles of our people to increase productivity, reduce absenteeism and enhance retention.
Occupational health centres
We have established occupational health centres at all mines and smelters with medical professionals for regular health examination of employees and contract workforce. The operations of these health centres are managed using software to coordinate all aspects of patient care, from pre-registration and admission to patient care and discharge.
Health services
Health services include pre-employment medical check-up followed by periodic medical check-ups with on-site medical professionals to monitor the occupational exposure limits. Depending on the nature of exposure and surrounding risk, there are different levels of processes, controls and monitoring mechanisms.
Healthy workplace
In pursuit of a healthy work environment, we emphasise on controlling source of pollution and monitoring exposure to hazardous substances through technologically advanced processes that reduce possible exposure levels. Additionally, various life style management trainings are conducted.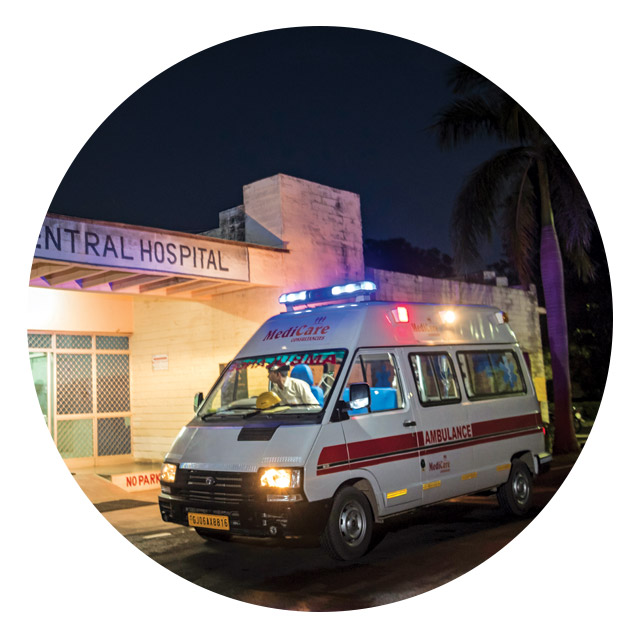 During the year, over 24,158 employees and contract employees underwent periodic and initial medical examinations. No occupational illness related cases were reported